Date/Time
Date(s) - 06/11/2021
11:00 am - 10:00 pm
Location
Beaver Bank Kinsac Community Centre
Categories
Welcome, one and all, to Ruantallan's Baronial Investiture Anniversary!
As the Plague slowly ebbs from our shores, Their Excellencies of Ruantallan have decreed a day of celebration and feasting to commemorate Their most noble ascension to the Baronial thrones, and to rejoice that we may all once again come together and live in the Dream.
The event shall reflect upon the noble virtues that helped see us through the plague or that we saw in others which inspired us.
Saturday November 6th, 11:00AM – 10:00PM
Location Beaver Bank Kinsac Community Centre
Address: 1583 Beaver Bank Rd, Beaver Bank, NS B4G 1C5
Registration deadline : October 24, 2021
Fees:
Onboard

Offboard

Members (with discount)

20

10

Non-Members

25

15

Youth (age 7-18)

15

8

Family cap

Members / Non-members

60 / 70

30 / 40
Activities include displays of heraldry, dancing, and a magnificent feast. Those who wish to demonstrate their martial prowess will have their opportunity to fight for the glory and honour of Ruantallan as we select new Champions in Rapier and Heavy Fighting. All participants of the event are further invited by Their Excellencies to take part in a Quest.
This site does not approve the use of open flame and candles. False flames only please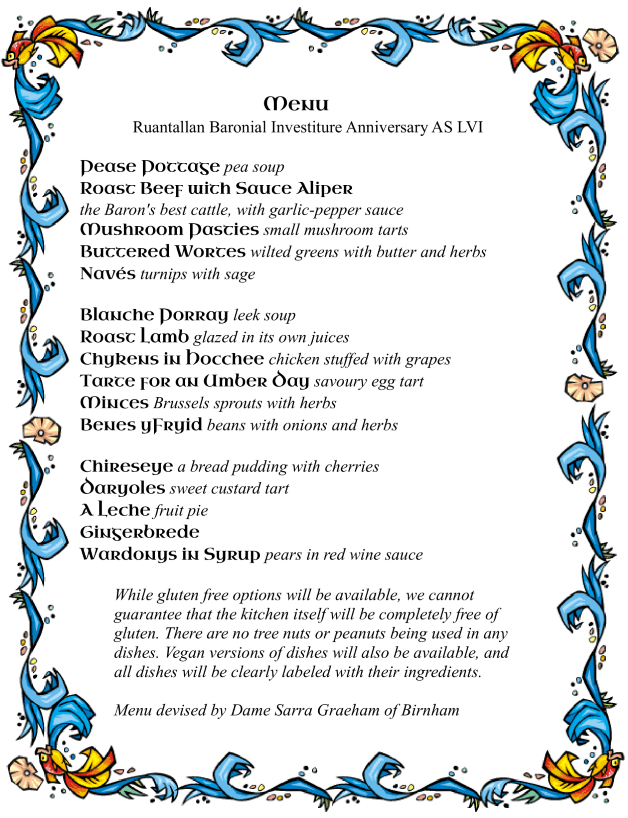 | | | | |
| --- | --- | --- | --- |
| | OUTSIDE | ACTIVITY ROOM 1 | ACTIVITY ROOM 2 |
| 10:30 | | | |
| 11:00 | | Quest begins, people receive passport at Gate | Heraldic painting/on duty |
| 11:30 | Rapier reauth | | |
| 12:00 | Rapier tourney | *RAPIER INSIDE IN CASE OF WEATHER* | |
| 12:30 | | | |
| 13:00 | | Dayboard Served | Herald on duty |
| 13:30 | Heavy reauth | | |
| 14:00 | Heavy tourney | *HEAVY INSIDE INCASE OF WEATHER* | |
| 14:30 | | | |
| 15:00 | | Quest concludes, participants turn in completed passports | |
| 15:30 | | | Dancing |
| 16:00 | | COURT | |
| 16:30 | | | |
| 17:00 | | Feast tables and chairs set up | Dancing |
| 17:30 | | | |
| 18:00 | | | *Serving Staff Meal* |
| 18:30 | | | |
| 19:00 | | Feast | |
| 19:30 | | | |
| 20:00 | | | |
| 20:30 | | | |
| 21:00 | | | |
| 21:30 | | | |
| 22:00 | | GO HOME | |
Tourney formats for BIA
Baronial armored combat championship:
There will be carnage in this high speed low drag brawl.
Prepare yourselves for four rounds of combat, each round will have a random runtime. (The duration secret!)
Each round the weapons forms will be assigned randomly among the participants. (could wind up pole vs dagger)
Fighters will be awarded 2 points a win and one per loss.
When the clock stops for the final time, the points will be counted and the top two will progress to a 3 minute counted blows match. weapons forms at the competitors discretion. Blows would be counted by their excellencies and I.
Surprise, there isn't any potatoes.
Baronial fencing championship:
It is the decision of Lord Edwin Thorne Champion of Ruantallan that his successor shall be chosen in the following way, and for the following reasons.
A Champion of the Barony should be able to serve Their Excellencies in any way that is required of them. On both the fields of war and on the field of honour. As such I have decided to present three trials to give the opportunity for those who have chosen to compete a chance to prove their mettle.
The first shall be a Trial of war, for a champion is not just a honourary title. This person must also be able to represent Ruantallan on the battlefield.
Round 1, A grand melee, combants may not target an opponent to either side of them first. Score one point for each opponent you kill before being removed, +3 points for last man standing.
The second trial is a Trial of Guardianship, for a champion must be able to defend the personages of the realm as well as fighting for it's lands. We would like to take this time to offer gratitude to Their Excellencies Admiranda and Kirsa for agreeing to participate in this round.
Round 2. Their Excellencies Robin.
A round robin where in the objective is to kill your opponents Baroness, Baronesses Admiranda and Kirsa have volunteered to assist with this round.
The objective is to strike a blow to your opponents baroness, any successful blow will count as a victory. If you kill your opponent before striking a blow to their baroness it is recommended that a fighter give their prisoner a chance to surrender peacefully rather than striking her, this is a recommendation not a requirement. The Baronesses are unarmed, but should they feel that undue violence is being directed at them, or that fighters are not showing deference to their stations as prisoners of value. The Baronesses will be issued Pistols with which to defend their own virtue.
1 point for a victory, 0 for a loss. There is no draw
The third trial is a Duel of Honour, for a champion should be well versed in their art, and able to use whatever is required of them to defend themselves and the court they represent.
The finals are a single duel of five passes. Each pass shall be fought with a different off hand. Only single sword may be repeated, and only if a combatant has run out of authorized off hand options. Styles need not be matched.
Please send a letter of Intent to compete.
Note all participants MUST register at gate, sign contact tracing and have vaccine status check BEFORE approaching the list.
A message from our Quest Mistress Dame Sarra Graham
It has been a long time of plague in the lands of the Known World, and like Arthur and his Quest for the Holy Grail, in times of trouble all gentle folk require a Quest. Like the Grail Quest, this will be a quest not simply for material things, but will test our virtue, and if embarked on sincerely, may leave those questing changed.
All persons attending the Baronial Investiture Anniversary will be given a Quest Booklet at the gate in which to track their progress. Each of the seven virtues listed inside will have a task. Some have an action you can complete yourself, some ask you to speak to another person during the course of the day, some ask you to identify an action you could do to promote the virtue in your everyday life. You can complete one of these tasks, or all of them, it's your choice how far to pursue your quest. At the end of the day, all who have completed even one task, and brought their booklet to the Mistress of the Quest (
Dame Sarra Graham
), will receive a small token.
Intrigued? Let me tell you one task, which needs a small amount of preparation. The virtue is Caritas, which translates to Loving Kindness, and the task is to bring an item to donate to Feed Nova Scotia. There will be a box at the gate. Non-perishable food items are valuable, and so are personal hygiene items. Toothpaste, toothbrushes, deodorant, menstrual products (especially those!), shampoo, soap are all in short supply.
Due to Nova Scotia health regulations and in agreement with the Beaverbank Kinsac Community Centre terms for rental
– If you are showing signs of covid you are requested to not come
https://novascotia.ca/coronavirus/symptoms-and-testing/
– Proof of Vaccination must be given. Options include paper copy, digital/photo copy, or the vaccination QR code. More information can be found
https://novascotia.ca/coronavirus/proof-of-full-vaccination-policy/
https://novascotia.ca/coronavirus/vaccine/#proof-of-vaccination
– Masks are to be worn inside the community centre except when actively eating and drinking
– If you are travelling to Nova Scotia please follow all rules outlined at https://novascotia.ca/coronavirus/travel/
and the most up-to-date travel restrictions into Canada may be found at https://travel.gc.ca/travel-covid
Although the SCA complies with all applicable laws to try to ensure the health and safety of our event participants, we cannot eliminate the risk o f exposure to infectious diseases during person events. By in-person participating in the events of the SCA, you acknowledge and accept the potential risks. You agree to take any additional steps to protect your own health and safety and those under your control as you believe to be necessary.
for additional questions or concerns please email 249435 @ members.eastkingdom.org
Autocrat Team
Dame Sarra Graham
M'lord Sebastien Daundelin
Lady Esperanza de Cordoba